The State of California has approved the County of Orange's plan to accelerate local businesses into Stage Two. The County was able to successfully demonstrate that Orange County meets the State's required metrics as outlined in the California Resiliency Roadmap.
We're confident that the Orange County business community will work to ensure the safety and welfare of their staff and customers alike. Our goal is to ensure the safe re-opening of businesses that meet the Stage Two criteria so that we can work toward re-opening more sectors of Orange County's economy.
In Stage Two, the County of Orange will be allowed to have the following businesses re-open with adaptations:
In-person dining reservations
Retail shopping with social distancing and curbside pickup
Manufacturing
Offices (when telework not possible)
Outdoor Museums
Limited Personal Services
The OC Health Care Agency (HCA) encourages business owners and operators review the State's guidance and do the following:
Find the guidance that is most relevant to their respective industries.
Prepare a plan after reading.
Put the plan put it into action. 
Once completed, post the industry-specific checklist in their workplaces.
Before businesses who meet the Stage Two criteria take the step to re-open, the HCA strongly recommends they perform the following steps:
Perform a detailed risk assessment and implement a site-specific protection plan.
Train employees on how to limit the spread of COVID-19, including how to screen themselves for symptoms and stay home if they have them.
Implement individual control measures and screenings.
Implement disinfecting protocols.
Implement physical distancing guidelines.
The criteria that the County of Orange was able to meet to move into Stage Two included the following:
Less than five percent of daily COVID-19 hospitalizations over a seven-day period or no more than 20 COVID hospitalizations on any single day in the past 14 days.
Fewer than 25 new cases per 100,000 residents in the past 14 days or less than 8 percent testing positive in the past seven days.
Have a capacity to be able to test 1.5 per every 1,000 residents and at least 15 staff per 100,000 county population trained and available for contact tracing.
Hospital capacity for a possible surge of 35 percent of hospitalizations due to COVID-19 cases in addition to providing usual care for other patients.
For more future updates, please visit http://www.ocgov.com and http://www.ochealthinfo.com/novelcoronavirus.
In addition, the Orange County Health Care Agency and the Orange County Business Council will host three informational webinars later this week to discuss the Health Officer Order and the State's Re-Opening Guidance for businesses.
The webinar series will cover various industries on each day:
Retail Industry

Thursday, May 28th from 3:30 PM to 4:15 PM

Restaurant Industry 

Friday May, 29th from 3:30 PM to 4:15 PM

All other Business Sectors 

Saturday, May 30th from 3:30 PM to 4:15 PM
Please see the flyer below and RSVP for the webinars by emailing ETeam@ochca.com, and you will receive the meeting information.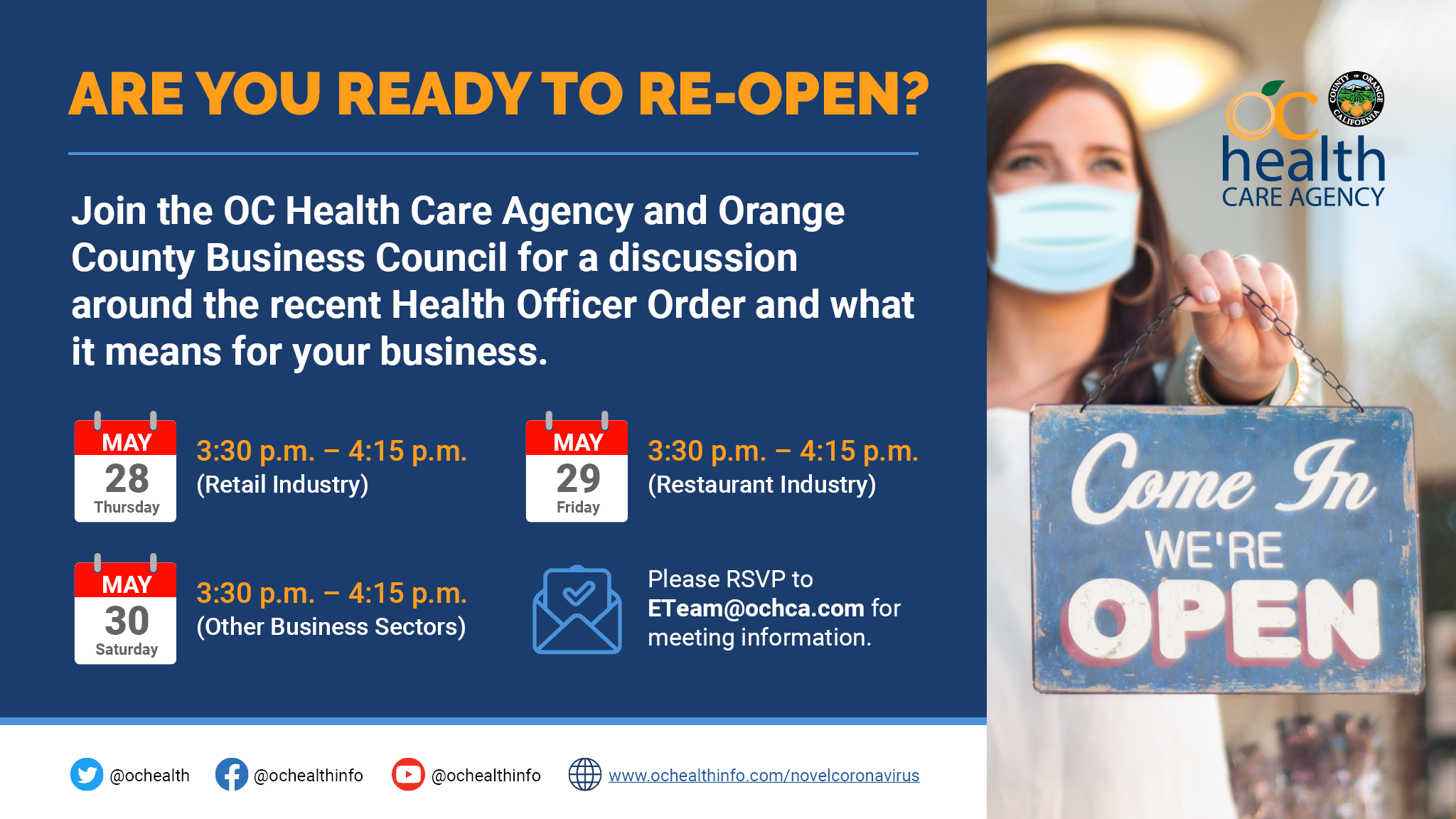 And in partnership with 3D Event Designer, the County of Orange is launching the Back2Business Initiative program to help local small businesses impacted by COVID-19 safely reopen by meeting local, State and Federal social distancing guidelines.
The Back2Business Initiative will provide up to 1,000 Orange County small businesses with access to free floor plan software to quickly create, configure, or update their space(s). This software allows businesses, such as restaurants and retail shops, to view their current layout and adjust their floor plan to meet the latest social distancing requirements, giving them the confidence to bring their employees back to work safely and responsibly.
3D Event Designer will be hosting free live webinars over the next two weeks to teach businesses how to use the floor plan software.
The first live webinar will take place this Thursday, May 28, 2020, beginning at 9:00 AM. Eligible businesses interested in participating can now register for their preferred date HERE.
To be eligible, businesses must be in Orange County and have 500 employees or less.
Businesses must also meet the following technology requirements to successfully use the software:
Have a reliable Internet connection
Have access to any Mac, PC, tablet, or phone device (creating a floor plan is easiest on a Mac or PC)
Have access to Google Chrome or any browser other than Internet Explorer.
For more information on the Back2Business Initiative, visit https://bit.ly/ocback2business or call the Economic and Business Recovery Call Center at (714) 480-6500.